Turn the tide on plastic before it's too late
Dead whales and turtles washed up on beaches with plastic in their stomachs; an alarming rise in prostate and testicular cancers among men … The environment is in a mess owing to human activity worldwide and it is getting worse. Portuguese doctor Luísa Varela Mirpuri is one of the public faces of the Mirpuri Foundation, launched in 2017 to raise awareness of the problem of plastics in our environment.
The Mirpuri family, owners of airline wet-lease charter business Hi Fly, have launched a foundation to raise awareness of the dangers of plastic polluting our oceans and killing wildlife. It has made a good start. This year it teamed up with the high-profile Sky News' Ocean Rescue campaign which had adopted the Mirpuri Foundation's slogan "Turn the Tide on Plastic" for its ocean plastic-pollution awareness campaign.
The perils of plastic
More than eight million tonnes of plastic are thrown away each year and washed out to sea. In fact, a floating island of plastic the size of Wales is making its way around the Pacific Gyre. This vast raft of plastic waste even has a name – The Great Pacific Garbage Patch. It will take centuries for this to break down. Its particles are eaten by marine life. From there, microplastics enter the food chain and we are at the apex. Dr. Luísa Mirpuri, who has been studying the effects of plastic on human health for many years, is one of many medical experts around the world who believe the evidence is strong — we are killing ourselves slowly with plastic.
"Plastic is a marvellous invention. It really is. It has transformed our lives in countless ways over the past 50 years. It is just so flexible and used in so many applications it is hard to imagine our modern world without it," says Dr. Luísa Mirpuri, who receives me at her consultation surgery in Lisbon's Entrecampos where she practises as an ear, nose and throat specialist. The doctor first came to my attention while watching a report on Sky News about its Ocean Rescue campaign, which aims to "Turn the Tide on Plastic" before 2050 when its experts estimate that there will be more plastic than fish in our oceans.
"Scientists have known since the 1960s that plastic contains toxic chemicals. We knew these were harmful to human health, but it's only now that scientists and doctors are pooling all of their research, joining up the dots and banding together to speak out, in one voice, that we have to change if we are to survive," she says gravely. Those toxins she is referring to are phthalates, which can leach out from plastic food containers, plastic water bottles and supermarket packaging. They are also found in children's toys and are known to interfere with human hormone function. "I have been studying family groups, taking blood and urine samples, and finding these toxins in these samples. Although these plastics are leaching small amounts into our bodies at safe limits, the problem is our exposure over time. We are seeing new diseases cropping up: asthma that is directly related to inhaling plastic fibres from our clothes and bedding, and which are settling in the lungs and our bodies cannot breakdown," she adds.
For a better world
The Mirpuri Foundation, launched under the slogan "For a Better World", jumped on board the scientific project to collect ocean plastic samples from the route covered by the round-the-world regatta Volvo Ocean Race. It revealed shocking and devastating findings – plastic particles were to be found in every stretch of the sailing route. The family behind the foundation, and headed by entrepreneur Paulo Mirpuri,  made its fortune in the aviation industry and is best known in Portugal for the executive airline Air Luxor created in 1988 by Carlos, Paulo and Luís Mirpuri. In 1997, they began a charter airline business based out of Lisbon airport and, by 2001, were operating regular charter flights. By 2003, Air Luxor enjoyed a passenger turnover of  1.2 million per annum (€159 million turnover) from eight regular routes.
The following year, the Mirpuri family founded Hi Fly with offices attached to Lisbon's Sheraton & Spa Hotel. In 2017, Hi-Fly negotiated the purchase of two Airbus A380 to operate them from large international airports. In July, Hi Fly took receipt of an Airbus A380 with 471 seats (the largest plane in the world) and used it to support the Mirpuri Foundation campaign "Save the Coral Reefs" by painting one of its aircraft with the special coral reef campaign logo. "Plastic contamination will, I believe, be catastrophic for human health. It is killing us slowly," says Dr. Luísa Mirpuri whose foundation is linked to the research compiled during Volvo Ocean Race event. Among the racing yachts was one sporting the Portuguese flag called "Turn the Tide on Plastic". The Turn the Tide on Plastic yacht which was sponsored by the Mirpuri Foundation was part of a wider United Nations' campaign "Clean Seas: Turn the Tide on Plastic", amplifying the sustainability message throughout the world.
The Mirpuri Foundation joined forces with the Sky News' campaign to warn of the need to clean up the world's oceans. Teams of researchers accompanied the race, picking up samples of sea water, and the findings were televised in a Sky News documentary, entitled – you guessed it – "Turn the Tide on Plastic". "The Mirpuri Foundation was the principal sustainability partner of the Volvo Ocean Race and the founding partner of the Turn the Tide on Plastic boat and team. The Foundation's support enabled the participation of the two Portuguese sailors Bernardo Freitas and Frederico Melo which is why we had the Portuguese flag onboard" explains Dr. Luísa Mirpuri. Water samples were taken at intervals along the 45,000-mile (72,000km) race and plastic particles were even found in the remotest parts of the Pacific and Antarctic oceans. "It will be catastrophic, not now, but for the next generations because we are seeing more and more new diseases emerging as a result, we believe, of plastic pollution. We, doctors, agree that we are seeing more cancers, particularly among younger people, which were rare before and are now becoming more common, such as testicular and some breast cancers," she warned, adding that evidence also pointed to sperm infertility. "We are less fertile than our grandparents." The "Turn the Tide on Plastic" team detected 26 microparticles of plastic in each cubic metre of seawater, even in the remotest parts of the oceans, 1000km or more from the nearest inhabited islands or landmasses, and up to 349 particles recorded in the South China Sea off Hong Kong.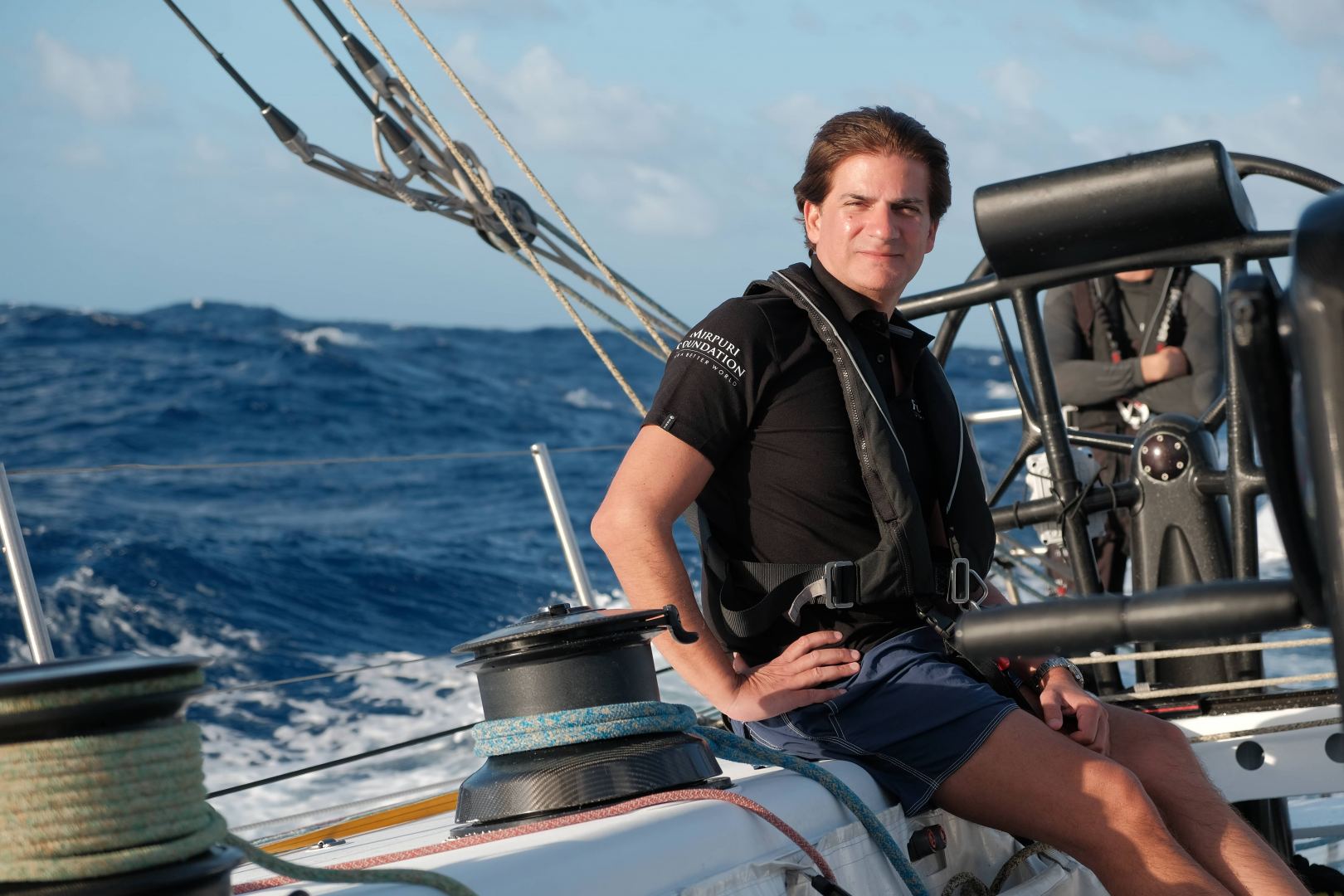 Synergies with researchers and foundations
Dr. Luísa Mirpuri says the Mirpuri Foundation is allied with many other foundations, institutes and medical researchers. She points to the project EC Safe Seafood guide as a good example of research being carried out in the area of seafood contamination. Developed within the framework of the European Union-funded research project ECsafeSEAFOOD, it was launched in February 2013 and funded by the EU's Seventh Framework Programme for Research and Technological Development. The project is coordinated by Dr. António Marques of IPMA (Portuguese Institute of the Sea and Atmosphere). "At the moment, researchers do not fully understand the rate and toxicity of microplastics in humans, whatever way ingested. The latest research results suggest that the quantity of microplastics in an edible portion of fish is likely to be negligible for human exposure," she explains.
"This is because if a fish ingests microplastics, they will be mainly contained in the digestive tract, which is discarded before human consumption. However, bivalves, such as mussels and oysters, are filter feeders and can, therefore, accumulate microplastics which are then eaten by us." On funding these initiatives like Sky News' Ocean Rescue and other scientific and artistic programmes with which the Mirpuri Foundation is involved, Dr. Luísa Mirpruri is reluctant to cite amounts. "We are a new foundation, just one-year old, and the money we invest is from our private family money. We want to get known first and raise awareness. Then later, we will think about how best to employ existing funding or monies that are raised with strategic partners as a result of our activites."
Small changes, big differences  
So, what can the average person do, apart from avoiding buying single-use plastic bags at the supermarket? "Avoid cosmetics and facial washes that contain microbeads, avoid buying clothes that contain nylon and take actions to prevent plastic marine debris, such as carrying a reusable water bottle, refusing plastic drinking straws and using reusable shopping bags over disposable plastic ones," concludes Dr. Luísa Mirpuri, who is currently involved in organising an international plastics and health conference, which will take place in Lisbon in the near future. "I am not a catastrophist but an optimist. I still think there is hope for future generations if we change now before it is too late. This is a battle for life," concludes Dr. Luísa Mirpuri.
About the Mirpuri Foundation 
The Mirpuri Foundation, incorporated by the Mirpuri family as a non-profit organisation, was established by Paulo Mirpuri. Based on a commitment to make the world a better place for future generations, the foundation allocates its resources and intelligence where they are most needed. By fostering a spirit of collaboration between global companies, communities and individuals, it aims to positively impact the most pressing issues threatening our planet – plastic contamination being one of them.
---