Dublin conference to showcase 'Living & Working' opportunities in Portugal
A special conference is being staged in Dublin to showcase 'Living and Working' opportunities in Portugal, revealing some of Europe's most attractive tax breaks.
The 'Portugal Conference' will be staged at the Clayton Hotel, Ballsbridge, Dublin, between 0930am and 5pm on Tuesday, February 04, 2020.
Organised by the IPBN (Ireland Portugal Business Network), it is being supported by a series of partners including Portugal inward investment agency AICEP, Invest Lisboa, Enterprise Ireland, plus many IPBN members.
Headline speakers include PwC Ireland, Edge law firm and Blevins Franks international tax and wealth management advisers. (See notes to editors for full schedule)
IPBN chair Aoife Healy said delegates will gain essential knowledge about living and working opportunities in Portugal, with all of the amazing lifestyle advantages it offers.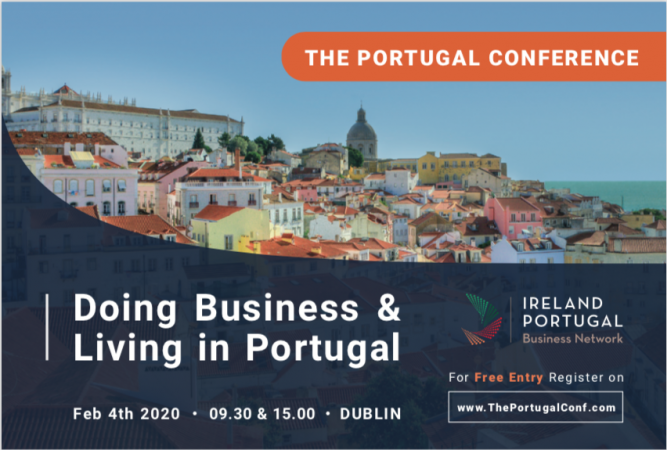 "We are inviting a wide range of people to join us in February at the 2020 Portugal Conference" she said, "Portugal offers a range of opportunity and advantages to many people, from senior executives and business leaders, to part-time workers and those beginning their careers. Of particular interest are opportunities for the retired and senior living communities, to avail of significant lifestyle and financial benefits.
"Our programme has been carefully organised to provide rigorous and well-rounded advice. A team of experts will deliver a series of presentations including an introduction to some of the most attractive tax schemes in Europe, including the NHR (Non-Habitual Residents) scheme and its implications for retirement, dividends, employee income.
"Further advice will be provided on leaving the Irish tax system with an overview of the legal duties and responsibilities of declaring residency in Portugal, purchasing property and taking up employment. Expert knowledge will also be shared about the Portuguese residential property market, providing an overview of market trends and value recognition."
In recent years the Irish and Portuguese governments have developed a close relationship, particularly within the EU context. The international relationship has also flourished with Irish exports to Portugal growing in areas including pharmaceuticals, organic chemicals, optical and photographic equipment, cosmetics, perfumes and machinery. Further similarities in population, GDP and key growth markets — including IT, renewable energy, agriculture and tourism – make Ireland and Portugal natural partners.
Ms Healy said the upcoming event provides an ideal platform to promote both the close connections between the two nations and potential benefits for Irish people choosing to live and work in Portugal.
"Portugal is a fast-expanding market with a large demand for skilled professionals," she said. "From an employment perspective there are major opportunities with a growing economy and a vibrant business scene from Porto to the Algarve.
"In terms of lifestyle, Portugal offers clear incentives with a Mediterranean climate, stunning outdoor landscapes and top-class cuisine. There are many other benefits including excellent travel connectivity to Ireland and a safety record rivalling the best in the world. Portugal is also frequently ranked as one of the most attractive places to retire due to low cost of living, financial incentives, ease of buying property, acquiring residency and access to high quality healthcare.
"We encourage anyone interested to attend the conference and ensure they are well informed to take full advantage of new and emerging working and relocation opportunities."
---