Lisbon's co-working boom
A network of co-working spaces has sprung up in Lisbon to serve the new breed of international nomads
In the eastern industrial part of Lisbon near the Tejo River, in the Marvila neighbourhood, there is an old wine-­production factory. From the outside, it looks similar to how it appeared over 100 years ago. However, on the inside, it is no longer producing famous wine but serving as a co-working space for trendy digital nomads. Managing partner and founder of WorkHub LX, Sara de Praetere, who holds an MBA from Lisbon's Católica University, was driving past the Abel Pereira da Fonseca building in 2015 when her mother, Maria Manuel, an ­architect, came up with the idea of ­renovating it.
"My mother was really passionate about renovating this building. She grew up in the neighbourhood and knows it like the palm of her hand. So I started to think about what we could do with the space," she tells Essential Business. Sara de Praetere then came up with the idea of a co-working space, as there were none in Lisbon, and they both went ahead with the plan, even clinching the national award for urban renovation a year later.
"When we first rented it, the upper floor had water up to your ankles and huge holes and it wasn't even safe to walk around," de Praetere recalls. Maria Manuel maintained the building's original features and there was ­minimal change, giving way to an open space of 200sqm as well as several "hubs", bathed in plenty of natural light, with wood barrel ceilings. Co-workers from all around the world and from many different backgrounds, from marketing to architecture and IT, work here. They are attracted by Lisbon's low cost of living, good weather, surfing and access to English speakers. In recent years, a number of cultural spaces, cafés, bars and art galleries have sprung up in the neighbourhood, turning it into the city's latest trendy area.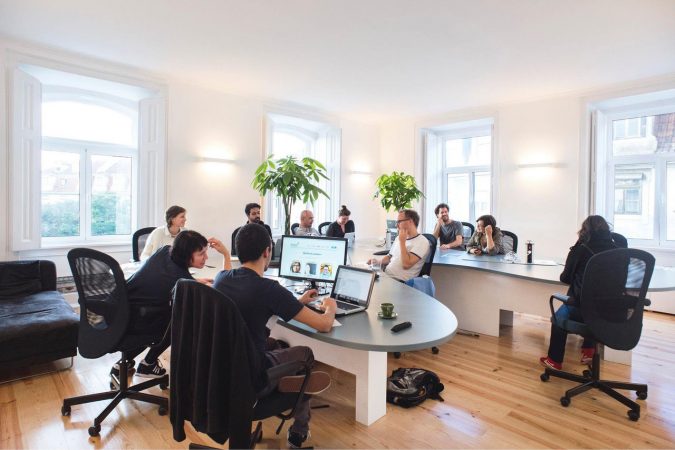 "We are the first co-working space in the eastern part of the city and we have seen a new wave of foreigners that ­before 2015 didn't exist. No one used to come to Marvila," Sara de Praetere points out. "It used to be asleep." Newly refurbished co-working spaces have sprung up all over the city, helped by a thriving startup community and boosted by support from the Portuguese government. Lisbon seems to have caught up with cities like London, where co-working space Second Home launched its first office space in 2014, in a former carpet warehouse — an ­unusual place with thousands of hats hanging from the ceilings and plants foresting rooms and corridors — attracting investment from Index Ventures  and Bebo founder Michael Birch, among others.
Co-founder of Second Home, Rohan Silva, a senior policy advisor for Britain's then Prime Minister David Cameron, turned it into the coolest hub for emerging entrepreneurs in the British capital, encouraging a sense of community and collaboration, with co-workers' lunch cooked by a top chef and dancing events taking place in the evenings. With plans to expand and Web ­Summit taking place in the Portuguese capital, he soon set his eyes on Lisbon. "Right now, Lisbon feels like East ­London just before the tech cluster ­exploded," Silva told TechCrunch at the time. "It's a super-creative city, but there are not enough places for creative people to come together. At the same time, big companies are shrinking, more people are becoming entrepreneurs and the ­existing infrastructure of cities needs to evolve to keep pace with this." Second Home launched its first overseas offices in Lisbon in 2016. Silva's second outpost, it was born in part of Lisbon's oldest food market, Mercado da Ribeira in Cais do Sodré, a 19th-century building transformed by Spanish studio SelgasCano and left as an open space of 1,115sqm filled with plants, wavy tables and mid-century chairs. The workspace is white, while the separate leisure area is painted in dark blue and boasts a bar and café.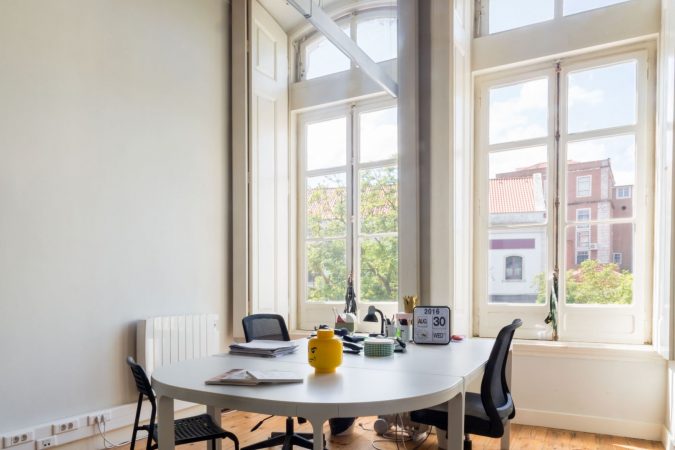 Lucy Crook, who used to work in advertising, was a member of the outpost in Spitalfields, London, before moving to Lisbon. Her office at the advertising agency was just down the road from ­Second Home and she used to pop in to have her lunches there. She abandoned London to open a yoga studio in Lisbon several years ago but soon got involved with Second Home's wellness programme here, before taking up her new role as its general manager.
"We recognised that people like the lifestyle here, they like to surf and the weather, and it's less hectic than living in London or Paris, so wellness is our key focus," she points out. "The lines ­between work and home have become more blurred; you can work from your phone or from the beach, so you demand more from your workplace and people are placing more value on their standard of living." Second Home's weekly wellness programme includes a 'fight club' (martial arts), meditation sessions at lunchtime, Pilates, yoga and even sailing or surfing on weekends. There are also concerts, conferences and a library room. Members include Vice Portugal magazine, food-­ordering app Levoo and Mercedes-Benz.
"We don't call ourselves a co-working space; we call ourselves a shared work space. People use the same space, but we curate the community and create business connections," Crook explains. "So if you are a startup and you need someone to design your logo or if you are looking for sponsors, we will introduce you." The idea is also for different companies and individuals to inspire each other and come up with ideas together. Take Cushman & Wakefield, who created an incubator at Second Home London and ended up teaming there with Visualise, a virtual reality studio, and now offers property viewings in VR. Co-working spaces offer people in Lisbon the chance for local and foreign freelancers to connect, and that is what led Tom Davis to found Cowork Central in 2013, also in Cais do Sodré and among the first co-working places to open.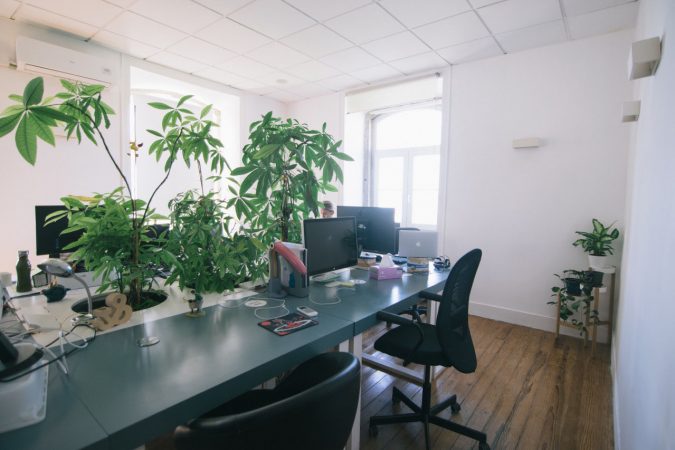 "I was working at home as a freelancer and the co-working space grew out of the feeling of being bored of working at home," Davis says. "Other freelancer friends I had made were facing the same issue, so we found this space and ended up turning it into a business." Boasting views of the river, Cowork Central used to be a hotel around 200 years ago. "It has a lot of charm and history to it and it's quirky," Davis points out. Today this co-working space has around 50 co-workers and has become so popular that Davis is now planning a second outpost, in Príncipe Real, a district with chic boutiques and eateries, which he thinks is more suitable for ­people with families.
"I think it is important for people coming to a new city to have a base and network," Davis explains. "Portuguese people also want to have a more international outlook, so it is about merging the two groups together, creating connections between foreigners and locals. We want to attract people who are here for the longer term and want to build their lives here." Most co-working spaces offer wi-fi and a sense of community, but a new co-working space, House of Maria Amalia, will soon be offering a novel amenity: ­allowing co-workers to bring their pets.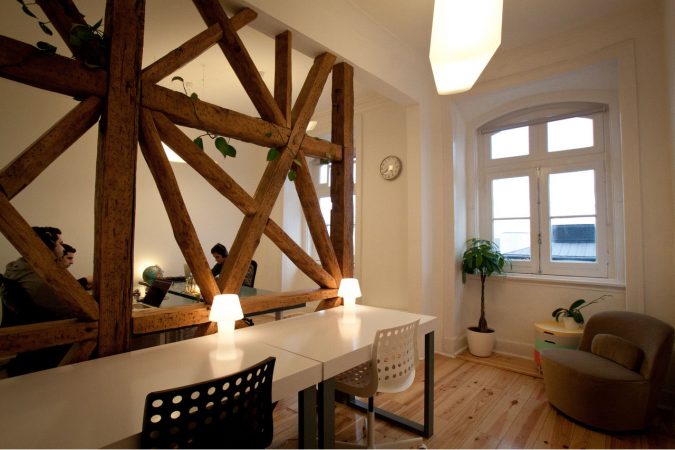 "We have large areas and there is ­always water and food available for the animals, as well as a park nearby," Vera Fijan, from Kiko Gaspar Communications, points out. The co-working space was founded by Kiko Simões Gaspar, who runs Kiko Gaspar Communications in London, and inspired by his Weimaraner called Maria Amalia. Pet-lovers can be from all kinds of professional backgrounds but will likely attract businesses in the luxury, fashion and lifestyle sectors. Another of their unique selling points is hosting an event called 'Iconbooth', where guests can ­create their own portrait with photographer Marta Lamovsek.
The network of co-working spaces in the Portuguese capital hasn't stopped growing, with the recent emergence of the riverside Lisbon Art Center & ­Studios, known as LACS, which used to be a former building for dock workers. With 5,000sqm, it is exclusively dedicated to creative people and its highlight is a massive rooftop overlooking the river. "We wanted to promote art and have art as the central and inspiring element," explains Gustavo Brito, founder of LACS. Last month, guests were welcomed to the official inauguration of LACS with a huge print by photographer Jorge Molder on the front of the building. The bottom floor of the building held an eclectic art exhibition, a DJ played pop music upstairs and guests were treated to cocktails.
"Increasingly, people are self-­employed and, thanks to internet and technology, they are autonomous and can work where they want and for who they want. They have freedom," Brito concluded.
---